By: Lauren Masey
For those of you interested in what has been happing on the ground- here are some photos and updates!
Group Formation and Constitutions: Groups were formed last month, but communities had another chance to join the roster and finalize the groups. The communities decided to combine some groups for a new total of 8. Communities were prompted to develop group constitutions to improve a healthy, maintained garden demonstration. Groups picked one day that will be their training day and decided that attendance must be high to receive a portion of the group harvest. Chairpersons and Vice Chairpersons were elected within each group, responsible for equipment accountability, mobilization, and oversight of garden maintenance.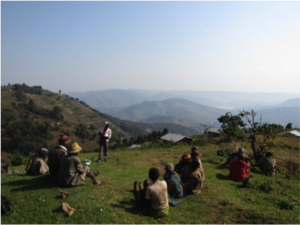 Robert, our local facilitator, leading Kasozi Group in Rwamahano to develop a list of group rules that will govern the MFFS and encourage and motivate members!
Land Preparation: Land preparation involved the construction of 'Fanya Chini' terraces in two of our three communities. A technique named in Kiswahili, this terrace design involves digging of a 2 foot deep trench at the top of your field, heaping the soil on the lower side to create a band where grass or shrubs are planted. This trench can be constructed at the bottom of the terrace as well if the slope is very steep, or simply protected with a grass band or shrub barrier. The trenches serve as water retention channels, preventing runoff erosion and as the water source for slow seepage into the terrace, extending the growing season through slow, but regular irrigation. Trenches need to be maintained every season and a complete terrace can take up to 2 years to develop using this method. With many groups and large numbers of participants, terraces were constructed quickly!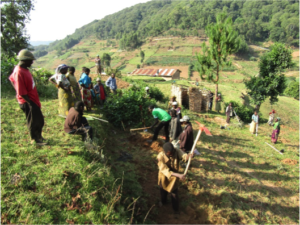 The Hafasi Group from Murubindi is one of three groups that will maintain a section of the Murubindi Demonstration Garden. Here they are digging a trench to create a Fanya Chini terrace.
The farmers were familiar with the idea of this design, but had never constructed one. We're be excited to see a noticeable difference in our vegetables this coming season. In the third community, 'land' was prepared by mixing clay and sandy soil and supplementing it with manure to create a sack garden. In Kinryaushengye, land is scarce so we decided to ask our farmers to donate a housing compound as our demonstration garden. We made nine sack gardens using old sacks from a nearby community. Sacks contain a cylinder of rocks so that when irrigating, water can move both horizontally and vertically throughout the sack. Heavier veggies are planted on top and lighter veggies like leafy greens and onions are planted on the side. Look out below for details on how sacks are constructed!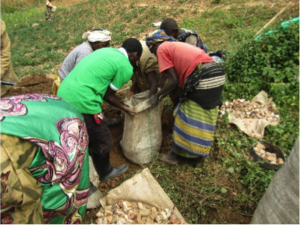 Women from Kitoma Group work together to make their own garden sack. Once finished, they'll choose what they want to grow, develop a watering schedule, and reap their harvests right outside their door in a few short months!

Partnerships and Collaboration: This month we were able to visit Kwachekano Agriculture Research Institute. A research arm of the Ugandan Government, this institute is mandated to research and disseminate best practices throughout Kigezi region. The institute was happy that we are training farmers within their zones and will be a technical support for our project, as well as a supply for agroforestry saplings and other improved varieties of vegetables.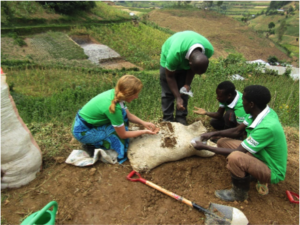 DIG Staff is enjoying learning new methods of growing and bringing them to the community.
Coming Up: The following month we'll be focusing on planting vegetables in nurseries and direct planting. Vegetables like cabbage, spinach, pumpkin, squash, eggplant, and potato is what we will be starting with this first season. We'll demonstrate various methods that are appropriate for the Batwa Communities to improve soil fertility and control pests. Lacking access to the forest or forest products (including forest soils and organic matter!), these communities are quite limited on resources. We'll develop ways with our facilitators that can be easily replicated at a household level. We're looking forward to seeing our vegetables grow!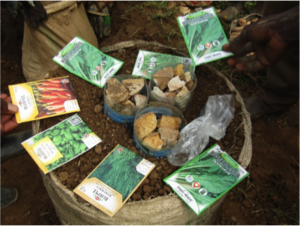 With many vegetables suitable for the region, communities have a lot of vegetables to choose from! We're hoping to have household gardens launch during the training so that each household can be eating what they want, sharing experiences, and beginning to think of what they can sell!